Manual vacuum casting machine
Two identical vacuum casting machines of different size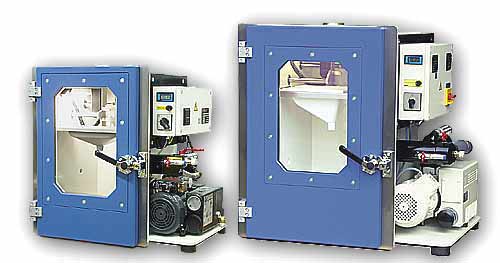 The UHG - 400 Easy and UHG - 500 Easy are simplified UHG - 400 and/or UHG - 500.
The difference: The chamber aeration is execute with a ball valve.
Thus electrical magnetic valves are dropped. The installations of the UHG-Easy model line are absolute practical casting machines, simply in the handling and very robust. To tilt the materials is implemented with hand levers operated from outside.
Infinitely variable control of mixer speed
Clear construction, good light
Economical replacement parts, there all from own manufacturing
All pressures and aeration rates adjustable (important for future resin-materials)
Prepared for future options as the pressure difference casting, heating-cup and so on...
UHG-400:

UHG-500:

For moulds up to
H = 405, W = 400, D = 455 mm

For moulds up to
H = 500, W = 500, D = 635 mm
Capacity cup A = 400 ml
Capacity cup A = 600 ml
Capacity cup B = 600 ml
Capacity cup B = 1000 ml

UHG-500 Easy

Well illuminated working space
Simply to take out cups, mixer, funnel and funnel sheet metal
For cups and funnel disposable insert are available


UHG-400 Easy

Chamber aeration
To flood the vacuum chamber
Vacuum regulation valve
For variable vacuum
Mix pressure valve
Simplified the adjustment


UHG-400 Easy

Lift:
Of course all vacuum casting machine has a lift. To use the full chamber size the lift is removable. UHG-400 and UHG-500 are furnished with a lab lift with handwheel.


UHG-400 Easy

Vacuum display:
resolution 1 mbar (hPa)
Mixer speed:
variable mixer speed controller
Operation time counter
Main switch:
0 = Installation absolute OFF
1 = Light and display is ON
2 = Vacuumpump ON, mixer ON


UHG-400/500 Easy

Hand lever and flange:
Two hand lever to tilt cup A and B empty. Two flanges for the connection of options (Pressure funnel, heating-cup ...)